We offer sedation dentistry to provide relief for our anxious patients. Nitrous oxide gas or oral sedation are two options available at our office.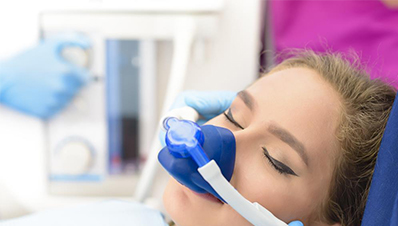 Nitrous oxide or laughing gas is the most common option available. A colorless and odorless nitrous oxide gas combined with oxygen is inhaled by the patient. The delivery is carefully monitored and adjusted by the attending dentist. You may experience mild amnesia and may feel slightly sleepy but most patients are awake, relaxed and can talk to us. The effect of the gas is reversible so at the end of the procedure the patient will feel just fine and should be able to drive home. If this is something you may be interested in, please discuss it with us at your next appointment.
Oral sedation is where an anxiety pill prescribed by your MD or dentist and is taken through the mouth an hour before your appointment. This is a stronger form of sedation, effects of which may last for a few hours after the procedure is completed. Patients will need someone to drive them to and from the office. Please discuss with us if this option interests you.